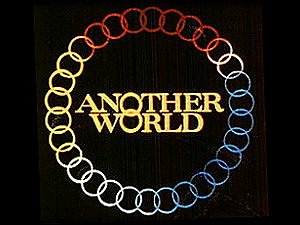 Hedison resisted starring in soaps for a long time. The big attraction [of Another World] was that it was shot in New York. "I told my wife, Bridget, it was inevitable that I would be doing one. I never wanted to do a soap in Los Angeles. Only New York. I love New York." --- January 21,1994.
1994

1994 Cast Portrait

A dapper Spencer attends Jake and Paulina's wedding.
April 1994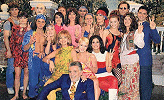 Cast Portrait of everyone in their 60's threads.
30th anniversary show.
May 4, 1994.

The two Davids (Hedison and Forsyth) caught at the entrance to the studio - on their way in to work. 1994

Ian and Spencer have a
chat at the 1994 Masquerade

Up to no good at the 1994 Masquerade Ball. From left: Jake, Spencer, Paulina and Ian.

Mark Pinter, Colleen Zink Pinter and David at the AW Christmas Party, 1994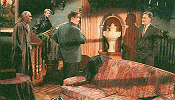 Carl, Matt and Josie persuade
Spencer to let them see Amanda.

"I think of Another World as a very warm, loving family, and I must say I look forward to coming to work and seeing the family. Spencer is a great Character who has many dimensions, so there are a lot of different things to play and I hope to be here as long as they want me. Another World has had very high standards, so I'm very proud to be part of this particular show. I wish them the best and I hope they go on for another 30 years." -- David Hedison