Cast
Aline MacMahon - Bess
David Hedison - Allen
Barbara Barrie - Charlotte
Susan Anspach - Terry
Joyce Van Patten - Alice
George Furth - Martin
Written by Oliver Hailey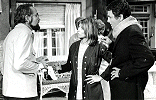 David on the set of For The Use of the Hall with
author Oliver Hailey and director Lee Grant.

"I loved working on For The Use of the Hall on PBS. It had a sensational cast and a dream director, Lee Grant. The rehearsal period was joyous."
-- David Hedison, March 2005

This madcap, yet heartfelt comedy about success and failure is built on wonderfully ridiculous situations and uproarious dialogue.

Charlotte is a penniless heiress, who with her failed art broker consort Allen, are reduced to squatters in the summer cottage of friends, living without heat and surviving on canned goods stolen from elderly neighbors. Charlotte is awaiting the arrival of Martin, a childhood friend and former lover. It is her hope to rekindle their flame and use his friendship for a place to live. Charlotte knows he'll arrive soon because Martin had a play open on Broadway the night before, and Martin's plays are so repugnantly bad that he returns to the cottage to hide until the criticism has subsided.


Unexpectedly, Martin's sister arrives. Terry is a nun suffering from a loss of faith, and she has come to her childhood sanctuary to reassess her life and her commitment to the church. Martin arrives, despondent and prone to blackouts, with an unexpected addition, his new wife Alice.
Bess, the mother of Martin and Terry is a dowager determined to outlive her children, just to see how they turned out. She serves as a narrator, recounting the story at a future point, knowing the turns and fates of the players whose lives will change that cold January in 1975 in a cottage in the country.
"In September and early October [1974], I was working on two Television shows simultaneously. One was a 90 minute drama with Diane Baker [ABC Afternoon Playbreak], which incidentally airs today. The other is a new play by Oliver Hailey called For the Use of the Hall, directed by Lee Grant (the actress) and will be on January 2, [1975]. I hope this particular play is sent to England. I know you'd all love it."
-- David Hedison
October 17, 1974
"Meanwhile, I have been quite active here in television. The highlight was a play called For the Use of the Hall, that was presented on the Public Broadcasting System. Oliver Hailey wrote the play and Lee Grant directed it. She did a beautiful job, giving the play the proper suspension between drawing room comedy and savage satire - like playing Private Lives on the Titanic! It was all very well-received.
-- David Hedison
May 15, 1975