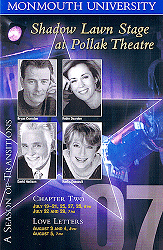 David played a rather stuffy upper crust boy almost in love with a poor little rich girl who became a bon vivant artist and married badly.
Andyís father thought Melissa was a bad influence and would Andy lead astray from the Summa Cum laude lawyer/politician he was to become, as befits someone from moneyed Connecticut named Andrew Makepeace Ladd the Third.
Melissa did make a mess of her life, but there were reasons why, which are clearly shown. She was rich, but unhappy and felt unloved by her family. She probably should have married Andy, who found success as a lawyer and a politician, more than any of the men Melissa did marry. He was practical and always had a plan. She counted on him to keep her grounded. They truly were good friends, despite all the disconnects in their lives and an inability to get together and stay together except through letter writing.
Nancy and David worked very well together, something they have always wanted to do since they became friends many years ago, even though Nancy maintains that her favorite actor to do Love Letters with is (of course) her husband Val. I was very happy with the pair I saw.
Davidís best scenes were one letter written in boarding school when he quotes from Paradise Lost and a very long speech about the joy Andy feels about writing letters.
Nancy imbues Melissa with a bit of desperate pathos, because she is so unhappy with her life most of time. Iím not sure Andy was any happier, but he at least was able to derive some satisfaction from his life by doing the right thing and becoming what his father always wanted him to be.

David with Betty Dickie (left)
and Janis Gianforte (right)

Diane at Saturday's show
Sue Kite photo

Lin and Kim
Sue Kite photo



George, Janis, Sue, Pat, Wendy, Diane,
Linda, Jane, Kathy, Lin and Kim
Kim Quire photo
More Love Letters photos and reviews