Chapter Two
National Tour (George Schneider)
Sept. 1979-1980

San Diego, CA
Denver, CO
St. Louis, MO
Chicago, IL
Detroit, MI
Milwaukee, WI
Cleveland, OH
Palm Beach, FL
Fort Lauderdale, FL

Westport, CT
Wallingford, CT
Flint, MI
Mountainhome, PA
Ogunquit, ME
Warwick, RI
Cohasset, MA
Chapter Two opened on Broadway in 1978, winning the Tony for Best Play. The four cast members were each nominated for awards, with Ann Wedgeworth winning the Tony for Best Featured Actress, and Judd Hirsch winning the Drama Desk Award for Best Actor.

Novelist George Schneider has returned home to Manhattan from Europe, recovering from the death of his wife. His younger brother Leo, an agent and born matchmaker, tries to snap George out of his depression with unwanted and unsuccessful dates. Actress Jennie Malone is dealing with her divorce from her ne'er-do-well husband. Neither is eager to return to the dating pool.


Chapter Two is about the growth of love amidst denial and how two people struggle to overcome the depth of the hurt in their individual pasts to create a future together


Based on part of Neil Simon's own life, many consider the play one of his best.

1979 Cast

David Hedison - George Schneider
Barbara Anderson - Jennie Malone
Jane A. Johnston - Faye Medwick
Vincent Baggetta - Leo Schneider

1980 Cast

David Hedison -

George Schneider


Anita Gillette -

Jennie Malone


Susan Browning - Faye Medwick
Sal Viscuso - Leo

Schneider
"I've decided to do a tour of Neil Simon's play Chapter 2 and am at present very busy rehearsing it. It also stars Barbara Anderson (Ironside), Vincent Baggeta (Eddie Capra Mysteries) and Jane A. Johnston, whom I starred in Funny Girl back in 1969 at the Sacramento Music Theatre. It is a wonderful play, and I will work very hard on it.

The Tour Schedule is San Diego, Denver, St. Louis, Chicago, Detroit, Milwaukee, Cleveland and Philadelphia."

David Hedison - August 24, 1979



At the stage door
San Diego, CA
September 1979


Outside the theatre
Denver, CO
October 1979


David takes a curtain call
with Barbara Anderson.
Detroit, MI - 1979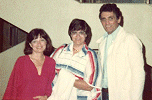 David and Anita Gillette
backstage with fans.
Flint, MI - 1980
Hedison took over from Jerry Orbach (on the National Tour) and assures us his George will be closer to what Simon intended
for the character.

"Jerry refused to deal with the more serious aspects of the character -- the pain of the man. It's important to get at that tragic edge -- [but] some actors they want to be liked -- they want to appear more sympathetic. It's important to like the part - it's positive and negative aspects. Let's face it, George is often a rotten guy and I don't try to hide that fact. I deal with it and for the sad moments, I think of about all the sad things that could have happened to me, but never did. That's what acting is all about - emotional memory. It is something I learned at the Actors Studio in the late 1950's."

"[Simon] was haunted by the memory of his [deceased] wife. Then when he thought it was over and he could start again, little things came back to haunt, like an ashtray, an article of clothing. That aspect of the play is handled very well. It was the first time Simon had gotten serious. Not all comedy shtick, like Sunshine Boys."

David Hedison Feb. 17, 1980
Sun-Sentinel, Fort Lauderdale, FL