During the Korean War, a group of U.S. Marines are given a furlough in Tokyo. Among them are well-bred David Hedison, intellectual Tom Tryon, and tough sergeant Tom Reese. These friends end up in all sorts of comic and romantic misadventures in Japan before they head back to battle.

David Hedison is Dave Chatfield, a marine who spends his furlough with Song-Do, a charming Korean girl in her small village, not yet under enemy fire. When Communist Chinese troops attack the village, Chatfield almost sacrifices his life to protect the girl he loves, even though he knows that his bigoted parents would never accept her as his wife.
Cast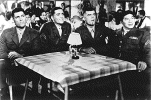 Tom Tryon - Skip Roth
David Hedison - Dave Chatfield
Tom Reese - McCaffrey
William Tyler - Russ Waller
Fumiyo Fujimoto - Song-Do
Raoul Walsh - Director, Producer, Screenwriter
Released15 August 1961

On the set of Marines, Let's Go which was filmed entirely in Japan, David was asked if he could recall a time when he was sure he was meant for the acting profession.
"I had quit college and taken a job as a Fuller Brush man in Providence. My first customer was a housewife. After I persuaded her to buy $30.00 worth of goods, she said, "Kid, you ought to be an actor." Lady, I said, that's just what I'm going to be." - Fox Exhibitors Manual