Kemek
Paul, the ruthless owner of Kemek pharmaceuticals (Helmut Snider) manipulates Marisa (Alexandra Stewart), one of his conquests, into an industrial spy. She is sent the coast of Italy to meet Nick Burns,an American writer (David Hedison) and keep him under surveillance. A researcher named Geismer (Herbert Weissbach) has developed a powerful mind control drug and Paul wants it. But Geismer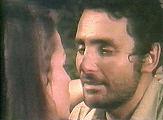 is dead and the formula has disappeared. The last person to meet with the researcher was Nick Burns.
Marisa and Nick fall in love, and it becomes apparent that Nick has been used a guinea pig with the new drug, but does not recall meeting Geismer, let alone know anything about a missing formula. His memory of the night returns, but he still doesn't know where the formula is. Marisa and Nick plan to flee to Naples, but Paul doesn't like loose ends. Marisa is gunned down in front of Nick.
Now, Marisa's ex-husband and a private detective try to piece together the puzzle.
The film was a combined business venture and independent set-up with Producer Harry Millard [The Russian agent in the 1st season

Voyage episode The Human Computer] and writer-director Ted Gershuny. David stars in the recently completed picture and is the co-producer. In forming his own company with friends, [David] did not have to weather any long drawn out waiting spell hoping for a film producer to seek him out. The second independent feature of David and company will be The Last Stop made New York in the spring of 1969 with a budget of $900,000.
Sadly, Harry Millard died suddenly without a will before Kemek released and in the resulting battle over the rights of his estate, the film was returned to Universal. Kemek was re-cut by the studio into something "more commercial" and released in 1970 to recoup whatever money the studio could on their investment, but by then the independent company had been dissolved. The Last Stop was never made.
One benefit of the film was David meeting his future wife.
"We met in Positano, Italy, where I was scouting locations for filming my upcoming picture Kemek for my independent company. If it wasn't love at first sight, it certainly was at second."
"It was on my birthday [May 20, 1967] that we met. Friends asked me what I wanted for a present. I couldn't very well answer, "Give me the girl who will change my life! Then I introduced to Bridget, who happened to be in Positano on a holiday from London. She was as fascinating to talk to as she was look at, so I spent every spare hour I had with her."
"But the minute I saw her in that little supper dance club – luckily she was dancing with my location manager, who I was looking for, so I could get an introduction [and a dance].
I got a funny feeling and a hunch – this was it."
She has all the qualities I admire most. Bridges very aware of how a person feels. She's kind and brave and bright. We spent four marvelous days together which ended when a cable arrived from 20th Century Fox saying that I had to report for shooting on the fourth season of the series. I packed up and left with a heavy heart because I felt I might have found the right girl.

After that meeting, we corresponded quite often. I telephoned her several times. Los Angeles and London didn't seem very far apart when I heard her voice. In late December I got five days off. I flew to Rome on business, but I only spent two days there and then flew to London to spend the other three with Bridget.
We kept in touch. On May 12, 1968, she came back to Positano to visit me on my film set. Two days after that, on a bright sunshiny day, I turned to her as we were walking down the ramp Taglia to the beach and asked, Will you marry me?"
If my proposal had been for a film, I'm positive the director would have made me do it again. I blurted it out. But she said yes. A few days after that I gave her an engagement ring and the crew on the picture gave us a party.
She flew back to London the next day to make arrangements for the wedding, pick out what she wanted to wear, and have the invitations to prepared. Six weeks later, after the film wrapped, we got married."