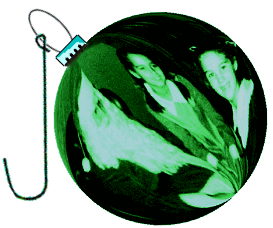 LA versus RI
In Los Angeles, it seems that Christmas Day is always hot. Hot, but dry. If you had a Christmas tree, I always remember the dry pines would fall to the floor and rustle against the tissue paper around the tree. The windows would be open, guests would arrive, eggnog, martinis and punches would be served. Kisses would be given under the mistletoe, kids would be running around and wondering when they could open the presents. All very Christmasy - but to me it could have been a 4th of July Christmas.
I'm from the East Coast and Christmas in Rhode Island and New York was what it was all about. Snow, a frozen pond, ice skating, throwing snowballs, freezing with the cold, then going home, huffing and puffing, going in the back door and removing the clumsy snow boots. And that's when a martini was well deserved and really tasted good. I much prefer an Eastern white Christmas to a hot, dry one on the West Coast.
-- David Hedison December 2005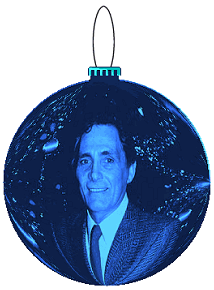 Christmas in the UK
The two years we spent in London was also memorable -We left L.A. - Bridget, baby Alexandra, and myself. Serena was happily sleeping and many times kicking in Bridget's belly. I was excited about spending a Dickens' Christmas in London with the snow and sledding and looking forward to having Alexandra roll up a snowball and throw it at Daddy.
Bridget broke my fantasy when she informed me that it doesn't snow in London anymore and hasn't for years. I persisted. It will, it will, I told her. She laughed. I was not amused. The next thing I knew it was December 24, 1970. It was a clear but cold day. We had friends around for Christmas, and the festivities broke up around 9:30 PM.
We tucked Alexandra into her bed, and we went to our room. I passed by the large bedroom window, turned to Bridget and said: "Look!" She did look and I had the last laugh. Huge white snowflakes were drifting down from the sky. I got my wish. It was indeed a Charles Dickens' White Christmas.
-- David Hedison December 2005