I didn't have to get up quite so early to go to Pittsburgh, so my neighbor again took me to the airport for my noon flight to Pittsburgh via Baltimore. I had no problems with either flight. The weather was drizzly, but it wasn't that bumpy. I've been through Baltimore before so I was able to find my gate, although it was a bit of walk from where I came in to where I went out (terminal change). I had time for a late lunch before we boarded. It was a short flight and it was still drizzling.



I had not been to Pittsburgh since the airport expansion, so I had to learn the layout all over again. It has a simple spoke layout - everything feeds into the middle where the food is. This was fine. I had two hours to kill before David's plane was scheduled to arrive, so I found a chain I liked and had Italian dinner.

His flight was too far out to show up on the arrivals board, but when I walked down to the United gate area, (Spoke D) they had this lovely 10 foot high video screen map with all their airplanes on it. I found David's flight and it showed him over Iowa, so I turned on my computer and started working. When I checked some time later he was over Indiana. There were only two United gates. I found the one flashing that the flight from LA was arriving there. So I parked myself. It was dark by the time the plane came into the gate, so I heard rather than saw it arrive.

I know David sits up front, but he did not deplane with that group. So I waited, figuring he didn't want to be trampled. Brett Halsey came off the plane, so I waved at him and he nodded and came over to stand by me. I wasn't sure he would remember me. It had been eight years since I've done a show with Brett. Then Brett asked me if I had seen David, since he sat in front of Brett. I said, no, David hadn't come off the plane yet. I leaned over to look around the L corridor and saw David coming down the jet way.
More than a few seconds went by and David did not come around the L. I think he finally heard my voice and came around the corner, admitting that he was playing with me and he wanted me to think he had missed the flight. I told him I knew him better than that. If he said he was going to on Flight 458, he'd be on that flight.
I asked both of them if they wanted to use the men's room before we headed out for the at least an hour drive to Butler. They thought that was a good idea. So I told Brett to let me have his little roller. I would wait and watch it. David walked back and dropped his black knapsack strap onto my shoulder and told me I could "hold on to that as well as you never what you will find in there." I don't blame him for wanting not to put it down. It would not be the first time David would show Brett that I was his. First.

I did not know where Baggage claim was (the renovation) but I promised both men I would get them there. I was letting Brett lead, but he didn't seem to want to, so I moved out in front, got them on to and off the escalator, onto and off the tram. I told David to sit with me on the window ledge and Brett to grab the rail, so when the train lurched off, neither one would go flying across the car. We got off at baggage claim and went down yet another level - I found United Carousel J and went in. I was glad I had waited for them, after all that. They followed me and by the time they got into the area, I had spotted and grabbed David's red and black bag off the carousel. I did not know what Brett's checked bag looked like, but he spotted and retrieved it. It was a bigger version of his small roller.
I then motioned to the taller of the orange dressed Monsterbash guys loitering outside the carousel. Dan looked liked Ashton Kutcher's older brother and Bob looked like the bald newspaper guy on Haven. Dan drives all the celebs for Monsterbash. We liked him immediately and he became part of our 'posse' the rest of the weekend.
Dan led us to the parking garage and we got all the bags loaded. I asked David if he wanted to sit up in the front seat. Brett said he'd flip David for it, but David said he was fine in the second row, so Brett sat up there. Brett is very tall. I crawled back into the third row, when Bob said he wanted to sit in the other second row seat behind Dan. David mentioned he would like them to stop at a 7-11 on the way back, so he could buy breakfast to eat in his room. I handed David a soft, chewy oatmeal raisin breakfast bar from my bag and told him to put it in his jacket pocket for later, in case he didn't find anything he liked.
So we drove off into the Pittsburgh night. Dan told us up front it was going to take a while to get there and he wished it wasn't dark, so we could see some of the leaves turning color. I assured him he'd be taking David and Brett back on Sunday during the day and they would see the leaves then. They decided the best place to stop was in Mars. Bob mentioned he had married a girl from Mars, so that made his wife, a Martian. O-kay. We chatted about many things. David remained quiet for the most part, but chimed in one topic that showed he had been following along... for the last 20 miles. David doesn't miss much.
We pulled into a 7-11 about 40 minutes later. I offered to pay, since I could get to my wallet the easiest, as it was in the bag at my feet, not in the back. David said fine, he'd pay me back later, since he owed me money anyway. I found his not from concentrate OJ, and found Brett his apple juice. Brett found David's granola bars.
David noticed the huge rack up front of Tastycake bakery items. Local delicacy, I informed him. So he picked up one of their pies. John is from NJ (across the river), so he knows all about Tastycake. I got a fast education on the bakery when we went to Philadelphia for Monster Mania last March.
We got to the hotel - only to find a wedding in progress. The hotel was a wedding chapel. Great, David said, we'll have drunks all night. And we did.
Dan said there was no set-up that night, because the wedding was using our dealers' room hall for their reception. So we checked in. David came over to me and flashed his room number, so I'd know where he was.
She was going to put me on another floor on the other side of the hotel, but I persuaded her to put me on the same corridor as David. I explained he was 84 … and that I really needed to be 'down the hall.' You never know and I wanted to be where David could find me easily. That worked out quite well, actually. I ended up next to Charlie Herbert, but, I didn't discover that until Sunday afternoon.
She told David he had boxes at the desk – the ones I had sent. So I collected all 6 boxes (pictures, table sign, et al) and got a luggage cart to haul everything down to my room. David wanted to give me the pictures he brought, so I said take them to the bar and I'd collect them there. I met him coming back down the hall when I was (finally) on our corridor. We were the farthest rooms in the last hall at the back of the hotel. Which worked out quite well because our selling table was in the last hallway we had to go down to get to that corridor.
David gave me the pictures and said I could still come to the bar. So I unloaded the cart and checked my phone. Amanda was texting me from the bar, saying David had just walked in. It was quicker to go there, then to text her back.
David bought BOTH of us a drink, after I arrived and brought Amanda over to say hello. Then we left to let him and Brett have dinner, since we had already eaten. David told Brett we were 'his girls,' meaning he would pick up our bar tab. I tried to leave a tip and David said, no, put it away, he had already taken care of it.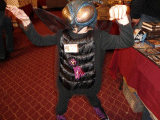 I had a ginger ale and left before they could give me another one - on David's tab. We told Brett; Amanda and I were going to my room to do 'girl' stuff. Nice man. I was never quite sure if we were supposed to take care of Brett or not, but we did anyway, because he is a very old and dear friend of David's.
Back in the room, I told Amanda she was welcome to watch me prepare the bags for the show and look at all the pictures. So she stayed about two hours, watching me get ready for the next day and picking out pictures she wanted to have signed by David.
We went in search of water – found the one vending machine (in the bar) that dispensed it and purchased two bottles for the next day. We agreed when to meet for breakfast and that was Friday.
Amanda was down eating by the time I arrived. The breakfast room was not that easy to find. You had to go into the bar then take a side corridor down to the very back of the area and then use your room key to get into the room. Food was good, once you found it. The nicest thing was that they had bottles of cold water. I snagged one of them for David – who was eating in his room - as it was smaller and would be easier for him to twist open. Some he can get open, some he can't. When he can't, David hands it to the person nearest to him. They always seem happy to twist it open FOR him.



I grabbed the luggage cart and went to back to the room to load up. I got everything off the cart and onto the tables. Someone immediately wanted to borrow the cart, so I let them take it away. I set David up first, with his photos and pens, his water, Purell, and throat drops. Everything he needed to sign.
I was putting the table sign together when David showed up, 15 minutes before opening. It was freezing in the hallway, because they had the back door open. I had on two sweaters, so I was fine. David saw no one was there, so he immediately went back to his room to put on a thicker sweater.

I continued to set up. A few people asked where David was. I told them he'd be back momentarily. Brett came into the area, hauling his small roller and complained he had overslept. I offered to call him on Sunday, like I do for David. He liked that idea.
What he did not like was the table set, with me between him and David. He said they had to be next to each other, so he could hand David posters and pictures to double sign. I told him that con had placed us that way, but I didn't care and I'd ask David if he wanted to flip tables. When he showed up.
After the doors opened and 6 people had asked for David, I went down and banged on his room door. I told him he had customers. He said he be right out. And he was. The eight people who were circling lined up. Brett mentioned again that we needed to move David over, so I informed David that as soon as there was a lull in signing - we were going to flip the positions at the tables.

There was a large electrical junction box behind his chair. David had to avoid it every time he stood up, so it actually worked out better to have him in front of the supply closet door on the other side. The hotel guy only asked to go in there once.
Amanda was there to fill in and help. We really needed her. Usually, David and I share a table, so if they want me; I'm there. Without John, David and I had to do the selling. Amanda sat down at my table and would call me over when I had a sale.
We got David moved over after about an hour. We turned the sign around to face the other direction and he was back in business. We were busy, so busy that Amanda had to wait almost three hours to get the photos she had pre-selected - signed.
Dori Martin came by to three of her candids signed. David recognized her right away. It was good to see her and Bill again. We had several folks who enjoyed having their pictures taken with David.
The guy I remember best brought David his yellow Remco Seaview toy to sign and he wanted a picture of the signing, so he paid me to take it. Then he was going to go down to the Walgreens and have an 8 by 10 made. He came back mid afternoon to tell us that Walgreens had destroyed the picture trying to develop it. So we took another picture. He came back on Sunday and paid David to sign the photo. I commended him on his perseverance and for still having a Remco Seaview in such great shape.
Amanda was a big help. She went to the bar and bought lunch for me and Brett – David didn't want any. I made him tea about 3:00 PM and he polished off almost a full Ziploc bag of (now crushed) Kashi oatmeal raisin flaxseed cookies. The box they came in to keep them from being crushed was too big to fit in my carry-on…
Amanda had never been through a Saturday 'rush' before and she was amazed how busy we were that morning and how much work it was. She did beautifully; learning how to retrieve pictures from the box or table, taking "paid" pictures with everyone's camera, selling my books.
I teasingly referred to her as "our Jedi in training" when someone asked what her connection was to us. She handed David the wrong picture once and he (joking) told her she was fired. I told David to hire her back. It was my filing system that was at fault, so I rearranged it so she would not be handing him the "wrong" picture.
David kept getting posters that had previously been signed by Charlie that said "Help Me," on them. David leaned back, got Charlie's attention and told him to "stop stealing his line." Charlie took it well, saying he'd never thought he's see David ever again, so he thought he was safe. Brett was signing his pictures, "Fly, too." Everyone liked that touch. Brett would have one of us take pictures with whoever's camera, when he needed someone. He had two items that could be double signed – a poster and a colorized picture and both sold quite well.
Amanda was stoked that St. Louis was in the World Series and when she found out that Dan and Charlie were fellow fans, they talked Baseball all weekend. Dan was rooting for Texas. I had nothing invested in either team, so I was happy to root for Amanda's team.
Two guys from Texas, who had driven 23 hours straight to get to the con, came by to talk with David. David was interviewed by Studio Kaiju and another fellow who was writing an article on the Vincentennial that was posted on-line about a month after the con at the Famous Monsters of Filmland web site.
I was asked to be part of a documentary on Robert Lippert, the man who first bought the film rights to the Fly short story. They videotaped me early Sunday morning, right before Brett. Which was another reason Brett wanted me to call. To make sure he was up.
David and Amanda finally got some time (after lunch) for them to sit together and have David sign the photos she had selected. Every time David would sign a picture, Amanda would hand him a twenty. This went on for quite a while. David was inspired. He kept cracking both of us up with what he was writing all over her photos. Brett leaned over at one point and asked David if he was writing a sermon. David informed Amanda halfway through the signing she was going to dinner with us. We would have taken Brett, too, but he couldn't leave the hotel, he had a panel at 9:00 PM.

Our panel was at 7:00 PM, so when it started to slow down around 5:30; we let David go - to have a rest in his room. He wasn't gone 10 minutes when a four year Fly fan, Johnny Forbes, arrived with his entire family.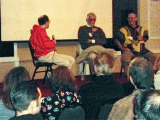 They had driven six hours from Ohio. He was in a costume his grandmother had made (by hand) for him. He really wanted to meet David, so I went down, knocked on David's door and asked if he'd come back. David graciously agreed.
His mother has since posted the pictures of them together on David's Facebook page – the fan page. Johnny and David rapped on the table together – David showing the boy the right cadence. It turned out Grandma was a big fan, too, so I gave her a really nice picture of David – one of my personal ones - to have signed for herself.

Then we let David go - to have his promised rest. We said we'd come get him for the panel at 6:45 PM. I got the number of the taxi service so we could go out after the panel to dinner. Amanda and I packed up David's table and mine and then we packed up Brett. I promised to call and get him up, so he would have time to eat the (free) breakfast before his 9:30 Interview.

David wasn't in his room – when we went to pick him up. I told Amanda that he sometimes gets restless waiting around and goes for a walk. We found him in the hall by the lobby. He said the hotel was like a maze and he had gotten turned around. I had to agree with him there. I kept forgetting I was on the north side of the hotel and kept going down the first (south) corridor to the rooms on that side. Where I wasn't.

The film wasn't quite done, when we showed up for our panel. We found Charlie and waited with him, figuring if we were all in one place, the con would find us quicker. I poked my head in to be sure, and the end scene was running, so I told the group it would not be long.

David wanted water and Charlie gave him a fresh bottle. They traipsed up onto the stage with Ron. Amanda and I stood about three rows back where David could see us. Amanda videotaped the panel with my camcorder, while I tried to shoot some still pictures. Almost everyone in front of me was taking pictures with their I-phones and or smart phones. Talk about a paparazzi moment.

David graciously answered Ron's questions and then took questions from the audience on Voyage, The Fly and one on Enemy Below. You can watch his panel – I posted my camcorder video to You Tube.
After David was presented his plaque (for attending), we went back out in the hallway. David spotted Dori in the crowd surrounding him and said hello. Several other people spoke to David as we waited to see what we were doing for dinner.
I tried to call a cab – as the con had recommended earlier, but there was only one cab serving Butler and he was gone on a two hour run to Pittsburgh. Ron tried to find someone to drive us into town and eventually did, but by then we decided to eat in the bar – it was easier. Ron told David he had a tab and have dinner on him. Turns out Brett had one, too, so he followed us down to the bar.



They gave us a nice table in the middle of the room and I sat on David's left and Amanda sat across from him, so he could see both of us. We piled all the coats on the 4th chair. The waitress (obviously) knew Amanda from the previous night – when she'd been hanging out with a couple of Voyage fans waiting for us to arrive. And she knew who David was.

I slid another breakfast bar across the table to David and told him he had left it on the table instead of taking it with him to his room and to put it in his coat pocket for tomorrow morning. David offered me a ginger ale, but I opted to be different and ordered raspberry tea. Amanda had cranberry juice and vodka and David ordered his martini. He let me chose the appetizer – told me he had never had crab stuffed mushrooms before. I wasn't sure to believe him, but if he wanted to try one of my favorites I was more than willing to share it with him.

David had been told there was no sauerkraut for his Reuben the night before, and he was not happy about that, so Amanda recommended the Chicken salad she had eaten the previous night. David looked it over and said he could eat all that. Amanda told him to tell them to leave off the French fries. None of us had ever heard of French fries as a salad ingredient before – so he had the salad, without the French fries.

Amanda's drink came topped off and David told her how to drink it without lifting it so it wouldn't spill and waste all that good vodka. He took one mushroom (to try); decided he liked it and asked for another one, so I spooned the biggest one onto his plate. He ate all his salad, too. He would have bought us dessert, but the bar didn't serve any.

David was in a great mood. We talked and laughed and talked some more. Turned out he hadn't napped – he made some calls, and remade his bed the way he liked it made.

After he ordered, Brett decided to join us, even though he was going to have to leave before we were done – for his panel. We moved all the coats so he could have the chair. He had a hamburger. I had the chef salad.

David asked us if we thought he should shave off his beard. He had apparently asked Bridget and she told him to keep it. We agreed. I told him, you've had it for 20 years, why change now? I also reminded him how much he hated to shave. I think that finally convinced him it was a bad idea to shave it off.



The waitress brought Amanda another over vodka and cranberry while the boys figured out whether or not they had a tab (or not). They did, so they settled the bills and Brett left.

After he did, David gave Amanda a hard time about dumping his jacket on the floor, so Brett could sit down. Luckily, I had stuffed what I had moved into my chair, so I was spared being scolded.

We offered David dessert out of the vending machine, but he couldn't find anything he liked. We were told on the way back; there would be 'Fly' cake at 9:30 – after Brett's panel, so Amanda and I decided to come back for that. We dropped David off at his room, both got a nice kiss goodnight and told him to show up at the table tomorrow – with his bag packed when it was time to check out (11:00 AM) and I would store his jacket and bag in my room until it was time for them to go, since I was not checking out until Monday morning.

Amanda decided she wanted to see how the panel video came out, plus she wanted to watch the baseball game, which was not on in the bar, because there were a bunch of guys in there watching the Pittsburgh hockey team play. So we went to her room retrieved her computer and then set everything up in my room.

She found the ball game, so we had that on. I gave her the two SD cards from my camera and the camcorder and let her copy everything off them onto her computer.

Then I gave her my pin drive, so she could then copy her pictures from her camera onto
my drive, so I could use my laptop (with Wi-Fi) to upload the pictures to my web site and face book pages.
It took a while, most of the ball game, to do this, but St. Louis was winning, so we worked and cheered and got it all done. I think it was well after midnight by the time the game ended and Amanda left. Happy.

I called the front desk to get me up, so I could get everyone else up and that was Saturday. David was such a gracious and funny dinner host, even if we were stuck in a bar with a hockey game going on full blast. He'd had a good day at the table, everyone was so happy to meet him and they brought him lots of things to sign.



I didn't have much time Sunday morning. I had to go eat (quickly) and do my interview. I had about ten minutes with Amanda, grabbed cold water for David and had to go. Turns out she didn't miss me at all. Brett came down after I left and she ate breakfast with him.

I did my interview. They made me up, which was a novelty – for me. The Videographer had several questions for me, which I answered to the best of my knowledge. He seemed quite pleased. I passed Brett coming down the hall as I was leaving, smiled at him and remarked, next!

Dan and Amanda were discussing the game when I arrived to set up the table. Dan was a good sport about Texas losing. It turned out Dan was there to arrange with Charles Herbert when he wanted to leave for the airport. Charlie was going out with David and Brett at 4:30 PM and considering how far it was back to Pittsburgh, I could see why Dan only wanted to make the one run.

I offered to let Charlie stow his bags in my room, since I was not checking out. I told Dan that David and Brett were stowing their bags in my room, since they also had to check out. So first we put Charlie's bags in my room, then when David showed up, ready to check out, we put David's bags in my room and finally when Brett was done with his interview, we moved his bags.

Dan was very pleased that my room was at the end of the hall and he could load for the airport from there.
So we got everyone checked out. There were chairs across the hall from us and a few folks were seated there, waiting for David to arrive. He sat down and they lined up. And we stayed busy until about 1:30 PM. Several folks came back to chat a 2nd time and buy additional items.

There was a fellow – another actor – who got David and Brett in a fairly spirited discussion about whether or not SAG and AFTRA (actor unions) should merge. I had to go arrange to have our table pictures shipped home (from the UPS store) on Monday – by the con. Ron Adams came through for us. Great guy. So I missed most of the discussion, but what I did hear was very interesting. It's a complicated issue.

Amanda said it was very quiet while I was gone – David and Brett had gone for a walk – it had warmed up slightly into a very nice fall day. She had entertained David by showing him all the sites David had (Internet – Facebook) that she could go to on her iphone. I'm not sure David wants an iphone, but he enjoyed cruising on Amanda's. And she had an absolute blast giving him the tour.



We started packing up around 3:30 PM. David was basically standing around watching me, so I handed him my room key and told him to go down to the room and get his bags ready for his trip home. There were table items he wanted to put into his checked bag and things in the suitcase he wanted to transfer to his carry on to use in-flight.

After a few minutes I gave Amanda the other room key and told her to go help him. Sometimes he wants help, sometimes he doesn't, but it's always fun to watch David pack. He is very neat, everything has a place and he is very organized. I have watched David pack, she hadn't and I figured that would be a great cap to her weekend with us.
I got everything loaded onto the rack and reminded Brett that when he was done packing up he was to "join the party in room 157" to retrieve his luggage for the trip to the airport.

I wheeled the cart back to the room. I knocked on the door and asked (jokingly and quite loudly) if everyone was decent. They laughed and opened the door. David had everything laid out on both beds and was almost done. David finished putting what he wanted in his carry on, while I unloaded the cart so I could get rid of it.

He wanted to settle with me before everyone else showed up. We divvied up. I went to wheel the cart outside the door and almost ran over Brett, who was about to knock. "Is this the party in 157?" he quipped. Then he gave David a hard time about being alone in a hotel room with two broads. Behind him was Charlie and Dan and they were laughing. Apparently it was time to go. I gave the cart to Dan and we loaded Charlie and Brett's luggage onto it, so Dan could go pack the van. David wanted help with his top coat. He has a bad shoulder (torn rotator). It took me a little while to find the sleeve hole for him and get it into the right position so David could get his arm into it, but I did manage to get the coat on him.


I made sure his rolling suitcase was zipped the way he likes it, with the zippers together where he wants them. Which is a different place (lower on the bag) then I zip them myself. Then I pulled it off the bed, pulled up the handle and rolled it out to the van for him. We made sure his bag was in the back of the van and he had his knapsack, then Amanda and I kissed and hugged him good-bye. Twice. Taking turns.

I'm pretty sure he went home happy. It was a great con and a very successful Fly reunion. It was the first time David, Brett and Charlie had every done a con together and everyone seemed to enjoy "the Fly boys" as they were collectively referred to. David got two nice write-ups in the local paper and there was a good crowd there.

I know I enjoyed being an author guest and Amanda had a good time. Check out our pictures.

Diane Kachmar
November 2011