Memorabilia Birmingham UK
November 24-25, 2012
David talks about Voyage
NEC Birmingham..


David discusses The Actors Studio and offers thoughts on the business.
NEC Birmingham.

David on playing Leiter and the Bond films.

I got up Thanksgiving morning and did something I'm never done on that holiday before - I boarded a plane and went to England to see David at the Memorabilia show. This wasn't my gig, but I had always wanted to go to this show. So I did.

There were no direct flights to the UK from Palm Beach, Florida so I took a plane to Tampa, Florida to take their one flight over. I arrived about 3:00 PM and my UK flight left at 8:00 PM, but if you show up early, the plane tends not to leave without you.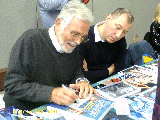 We took off on time and 8 hours, two meals, and one movie later with very little sleep, I arrived at Gatwick. There were 7 of us on the flight that were not UK citizens and believe it or not - the 150 odd Brits cleared customs before the seven of us. I passed and got my very first passport stamp.

I followed the signs to the rail station, got my tickets issued and found my platform for my first leg to Birmingham; a Southern train to Victoria station. As I sat watching the country side roll by (for about a hour) I still couldn't believe I finally made to England. Someplace I had always wanted to visit.

At Victoria, I followed the signs to the Underground and kept moving. They took my ticket and said Victoria Line Platform 5 - so down the escalator I went and right onto the tube. 5 stops later I got to Euston, found my Virgin train and boarded. Ten minutes later we pulled out for Birmingham - for another nice ride through the country for another hour.



We pulled into Birmingham about 1:20 PM. I stepped off the train, into the National Expo Center (NEC), walked across the expo and out the other side to my Hilton Hotel.

The Hilton gave me a nice room on the 2nd floor and upgraded me to club. I was in with the actors - again. Once I settled in, I went up for High tea at 3:00 PM since I hadn't had time to stop for lunch. It was a very good tea. I made friends with the lounge manager and she helped me get on the internet - I had a code, but as it turned out - the SIM card in my net book could not be used in the UK. This would not be the first time my upgrade at check-in would save me.

I came back from "lunch" to a message from Debbie Portch - one of the Facebook group of friends who were meeting me. I couldn't get my iPhone to work - it thought it was still in the US - so the hotel connected us (for a hefty fee). We agreed on a meet time. They arrived and whisked me off to the Harvester restaurant where we had a good hearty meal and lots of talk and beer and fun.

I was the only one with early admission - so I got up early - the bed was too firm and I wanted another sheet and the quilt was too heavy to sleep under... so I stole the sheet from the other bed and finally got some sleep.

We were all mixed together until someone noticed there needed to be two separate lines, so they sorted us into early and general and I went in early. I found David's table and he wasn't there yet. So I wandered over to the Tokyo Toys booth; looked at his wares and tried again 10 minutes later.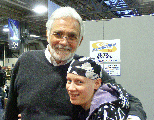 There was a tall white haired guy in a steel grey down jacket standing in front of David's table. Jackpot! David had obviously just arrived or he wouldn't still be wearing his jacket. I came up behind him and touched his arm. He turned to me and said, 'oh, hi, when did you get in?'

I hugged him tight and replied, yesterday. Then I helped him off with his coat. I asked him if he wanted the breakfast muffin I had liberated from my hotel for him. No, he had eaten and he was fine.

David was not happy about his 4 by 2 puny table, but there wasn't anything that could be done. He introduced me to his Bond stars agent, Paul. Eunice Gayson's agent, Andy, remembered me from Atlanta in 2003.

I gave David a glass bottle of water from my hotel, because it was small, something he could hold easily. I showed him some of the pictures I had brought over, but there was no room on the table for them, so I kept them. I had other things in my bag for him, but again there was no room for them, so I gathered up and got out of the way, so David could start selling.

I parked at the end of the row back up against the Partition - I didn't think anyone would notice me there - but they did. I had a hour to kill before my Face book invitees would be let in, so I was happy to talk with the two male fans who did recognize me. I helped Simon repack his Fly mask and took pictures.
The con dropped the brick packs of water bottles for the celebrities - they were massive 2 liter bottles - not something easily lifted or used. Which made me glad I brought David mine. Paul made the table work, but they were really crammed in there in middle of the row. Good thing they like each other. Because they were really busy, right off the bat and the line never ended all day long.

Right before I left, I asked David to sign a picture for someone who paid me to get one. So I paid Paul, only to find I had left the picture in the room with the other one I was supposed to leave at the table for the Sunday only person. Paul and David teased me and said they were keeping the money - and I better find the picture. Fair enough. I said I'd bring it with the Sunday one.



I left the hall and flagged down my party of Five by the front door. I led them over to the very long queue (to buy tickets) - then once they had tickets I led them over to the OTHER queue of ticket holders waiting to get in. It went quickly, much more so than I thought it would. And we were in.

We checked the schedule, no panel with David, so I took them down and over to David's table. David saw them all line up and decided he needed a bathroom break, before doing all that crowd. He had been signing for two hours solid at this point. So off he went.

Two more Face book friends joined the queue while we waited, so I tagged them as well, so David would know their names to sign. This was John's idea - he likes making nametags for everyone and they all got a kick wearing them.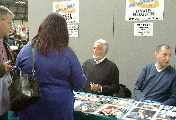 David returned, settled in and signed for Debbie-Anne, Charlotte, Sally, Linda and Angela. There was a very patient gent behind Sally, who told us his Mom had named him Lee. After you know who. He was fun. I finally got a chance to give David his throat drops and the other thing I had my bag for him, a maroon pullover sweater. He took both graciously.

We had to let David sign for some folks in line behind us - before he would come out from behind the table and take pictures with us. I showed all the first timers how to make a David Sandwich - one on either side. Then we did a group shot. David was very patient with all of us and everyone got their picture taken. Even me. I put my arm around David and tickled his ribs a little bit, to let him know I was there.

Th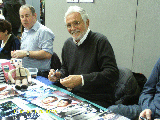 en we had to clear out as he had a line, again. He had a line the entire day. They brought him Voyage DVDs and Seaview books - we sold out of our Fly books by mid-afternoon. They brought him Bond posters and Bond books and they bought pictures. David was eventually able to place all of his pictures up on the table. I gave Paul what I had of one he was selling out of and I'm pretty sure David sold out of five or six more. Plus the 20 odd special photos I made up for the face book group, that were not on the table. We went to have lunch and look at our signed photos and all our other goodies.

David was very popular. We came back twice in the afternoon - the group had more for him to sign and Charlotte nabbed the last Fly book. We had discovered a couple of photo misfires during lunch on the first group of photos - and I was not in the group shot - Horrors! David was very cooperative with the second photo shoot, laughing and hugging anyone who asked for one. He had a very good Saturday.

We came back at 4:00 to say good-bye to him. Debbie asked David if he was tired and he said yes, but it was nothing that a good dinner and a glass of wine wouldn't fix. So everyone got a hug and a kiss goodby

e and I herded them all off so David could wrap up and be on his way. The weather was awful Sat. so I glad he was staying at the Village Inn in Birmingham and not going back to London in that driving rain. It was no fun walking back to the hotel in it, even with an umbrella. Miserable day, but luckily we spent it inside.

Sunday started an hour later and I was out of sorts from not sleeping on my rock hard hotel bed. The weather had moderated, so I took an over shirt instead of a jacket, since I would have to carry it around all day. The hall had both hot and cold spots so it was a constant on/off proposition with the shirt.

David was there and seated when I was let in. Once again I gave him the plastic trash bag - he wants one, so I stuffed two in my suitcase before I left the USA. And another small glass bottle of water. He asked me if it was from my hotel. Obviously, he had seen the con water and knew it wasn't theirs. I said yes.

He wanted to know if I had my picture to sign this time and I pulled it out of the bag and he signed it. I then gave him the Picture Wendy Flintoff had ordered and told him Wendy would be in to collect it later.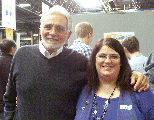 I told David my on-site hotel was serving high tea at 3:00 PM and he and Paul were welcome to "come over" if they ended up leaving early. David declined, he had hang around to driven back to London with the rest of the Bond Stars group. It was a five hour ride and he was less than enthused about it. They were going to drop him off where he was staying, but it was still a long car trip.

He told me he had slept well after a great dinner with his friend Kathryn Leigh Scott and I was glad at least one of us was sleeping. I then handed him a filled Ziploc bag for his lunch. All the "leftovers" from my various flights and included a chewy granola bar, some raisins and some rice sesame seeded crackers I had picked up from the "take away" of my breakfast buffet. I had a feeling he'd like those. He had the crackers and raisins for lunch, the granola bar was gone by 11:00 AM. I was happy he liked what I had packed for him.

I went out front to find my Face book friends and apparently missed them in line. When they didn't show up, I called Debbie Anne and she said they were already at David's table, so we reunited there. I came in as they were getting a picture of the Lee Crane rag doll sitting on David's shoulder.

Everyone talked to David and got more pictures and autographs and then we into the cafeteria to get Sally some coffee and apparently missed the announcement for David's panel at noon. Nothing had really gone right that morning.

David, of course, was gone from the table when we came back out of the cafeteria and we wondered where he had gone. When he came back he told he had a panel and he had wondered where all of us were. I s

hould have checked the schedule when I came in, like we did the first day and found out there was another Bond panel. I take full blame, I was having an off morning.

The girls were disappointed they had missed David on stage, but he assured them he only answered one or two questions. There were eight people on the panel. The Con videotaped it, I will go find it on You tube when it is posted.

We did some more dealer room shopping - we caught David Hasselhoff over by the reptile petting zoo and took some pictures of him. There was a real crush of folks taking pictures of him, so there was no getting close. I took Sally, Janet and Charlotte over to meet Eddie McClintock, while Debbie Ann searched for an Andy Roddick autograph for her son.

None of my British friends had seen Warehouse 13, but they liked Eddie. He told then to catch the show on RTV. He and I had a great chat about the show, future episode ideas, H. G. Wells and her failed pilot. And I bought one of Eddie's great Warehouse 13 t-shirts. I already have his autograph - he signed a picture for me in NYC in 2008. Great guy.



We hooked back up again with Neil and Debbie Ann and went to have everyone say good bye to David. Charlotte and Janet had a train to catch and Sally had to drive home from Debbie Anne's so they needed to get going.

David came out from behind the table and hugged everyone good-bye. Charlotte got her 9th cuddle and Debbie Ann her kiss. David is really good - if you ask for a hug you will get one. I always get mine. Janet finally came out a bit and had her picture taken with David and he signed a photo for her.

Sally had decided to get another photos signed as well and after we did that she went over and bought a photo and an Audio CD from Shane Rimmer, who was very nice.

Finally, they really had to go, so I gathered everyone up and we walked down the hall to drop Janet and Charlotte off at the train station. After much hugging and tears, we let them go and Sally Neil and Debbie Ann went off to the car park to begin the long Journey home.

I went back to the hall, spoke with David to find out when he was leaving and told him I'd be back to say good-bye and went to Eddie McClintock's panel for a while. I had to leave before it was over, mostly because once David decides to leave, he's gone.

David had finished packing up his rolling suitcase and was zipping it closed when I got back. I helped him with a few last things and we chatted. He asked after John and I told him about the cable install and how our new DVR would record 5 shows. 'Five?' he asked. Then he wanted to know which company because he wanted one. I promised to refer him when he got home.



David was ready to go long before his other riders were, so I hung out with him until his group was ready and they were the first to leave. David promised to email me when he got home (in a week) and hugged and kissed me goodbye.

I made one more circuit of the dealer's room before I left but they were packing up everything, so it was hard to shop and I had pretty much gotten everything I had wanted. Two toys for John, a t-shirt for me.

I did run into Eddie McClintock again and we had another fun talk. He must have really liked me, because when I told him I would be watching the show (again) In April and would wear his t-shirt with pride, he gave me a HUGE hug. Nice guy. He plays Pete. Warehouse 13 on the Syfy Channel.

I went back to the Hotel and had dinner in the club lounge - it was the first time I had been able to indulge in the 6 to 8 hot canapés and free bar service since I was there. My favorite manager was back on - the one who had helped me on Friday and we chatted and had a really good evening.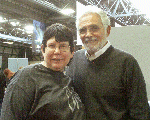 They I packed. I had about given up on getting any sleep on that hotel bed but I figured with a nine hour flight home (head wind) I'd sleep on the plane.

So after a three hour train ride south, an hour delay boarding because of a "loading" accident - he stepped the wrong way and fell off his elevated platform. <ouch> - we were airborne. Apparently my coach seat was comfortable as I feel asleep waiting for us to push back and only woke up as we were barreling down the runway.

I also fell asleep again right after dinner, so the flight went fairly quickly. They promised us "tea" right before landing and we got boxed chicken salad sandwiches and a chocolate biscuit! That is not tea.

I spent the night in Tampa, had dinner with my sister that lives there and flew Home Tuesday. It was a good trip. David did well and all of us who went to see him had a very good time. There were 19 of us (from Facebook) who were supposed to show up - we had three cancel - for work and health reasons - before the show and two of the attendees never hooked up with the group - but the 14 of us who did get together had a blast!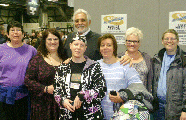 Diane Kachmar
December 1, 2012