Anaheim Comic Con
April 14-20, 2010
We got up at o dark thirty to catch our 5:45 AM flight out of Palm Beach. The airport limo was there as usual – which is why I use them. We went straight through security with John as a wheelchair passenger, he travels better that way. We were immediately taken to board our plane, which backed out and took off without delay. I had been told to get through Atlanta early in the day and since my miles were on Delta – I had no choice but to go through Atlanta, if I wanted to go to the Santa Ana Airport.
We ended up deplaning right next to the gate we needed to change to – that will never happen again. John was relieved. They wheeled him off one plane and almost right onto the next one. The agent graciously offered to give us "handicapped" seats closer to the front, but we were fine in the back, so he gave us the whole row, which was really nice of him. We could spread out and not to have someone in the middle. The seat back televisions screens worked great. We listened to music all the way to CA. I was able to sleep for about an hour, up against the window and enjoy the view as we flew in above Arizona and New Mexico. We had arrived in Atlanta as the sun was rising and touched down in CA at 11 AM Pacific Time. We had a really nice town car driver to our Anaheim hotel. He was Persian. He knew exactly who David was and we had a great ride north. He promised to come back and pick us up at o dark thirty on Tuesday, if we would get him a signed picture. So we got him one.
We were able to check right in and get settled into our big corner room. I liked all the space, plus there was a fridge and microwave. We found out later that frig froze everything that was put in it, so we had very cold drinks for the rest of our stay. It was a unit, so we never bothered to have it switched out. John likes his drinks cold. The bed was good (for once) and I was able to adjust the AC to my liking. It was 60 and sunny the whole time we were there and I was fine with an over shirt on, with a fleece jacket for the 40 degree nights. We went in search of lunch and found a Starbucks in the Marriott next door. $30.00 later we sat down to lunch. Welcome to Anaheim…
We decided to walk the three (more like 6) blocks down to the Target store for supplies, like bottled water and yogurt (which tastes fine frozen, btw) and a few other essentials. We ordered in Chinese take-out (delivered to our room) for dinner when we got back and that was Wednesday.
Thursday I got up early and went down to catch my hired car for the 59 mile trip to UCLA. The guy came in a stretch limo. La de da. Oh, well, I was paying for it, why not? He got onto the I-5 and we drove for a while, then it slowed down, then we got over on the 10 and we creeped along some more, finally we made it onto the 405 and up into Westwood Village. I had him drop me off at the East Gate of UCLA where there was a parking info booth he could use as a landmark. He promised to come back and get me at 3:00 PM. The parking attendant gave me a campus map; without commenting on my stretch limo arrival, thankfully.
I walked across campus to Powell Library. I went to the 2nd floor viewing room where I had put three VHS and one DVD on reserve to watch. Two Five Fingers episodes I had not seen, a Hong Kong episode and the Miss Teen International 1966 special. It took almost four hours to view everything. The Media center staff was very helpful and gave me a room to myself to watch them in. They had made me a viewing copy of the Hong Kong episode (from their 35 mm film) as apparently no one else had previously asked to see that particular one.
Hong Kong is a Fox TV series from 1960, starring Rod Taylor as an investigative newspaper reporter and Lloyd Bochner as his British Inspector friend, who have "adventures." David was the guest star, playing a ship's purser involved in smuggling, who recruits Suzanne Pleshette to help him get the jewels he laundered hot money for out of Hong Kong and through Hawaii to San Francisco, without the smuggler knowing he wasn't "mugged" in Hong Kong by the guy he paid to do it. Not a nice guy, but David had this lovely white purser's uniform, that ended up much the worse for wear by the end of this episode. Rod Taylor was worse for wear as well. It was fun to watch as I had never seen the show or this particular episode before.
In the Miss Teen International beauty pageant, David presented Miss Teen Japan, who was the first runner up. He congratulated here and wished her good luck. When asked what she wanted to do, the teen said she wanted to meet Steve McQueen. Miss Teen Sweden won. She won a 1966 Mustang, a trip around the world on TWA, a $3,000 scholarship and some swimwear. The sponsor was Miss Clairol. The bathing suits the teens modeled were very chaste; they looked look like leotards with skirts. One contestant was even lauded for being able to cook and sew. There were at least 25 ABC series stars involved in this "special.' Paul Burke was there from 12 o'clock High and Adam West was the emcee. There were four stars from Peyton Place. They introduced Robert Goulet as the star of Blue Light. I don't remember that show … at all.
I ate lunch at the Carl's Jr. on campus and then my ride came to pick me up. We went by the historic Westwood Village Theatre on the way back and also LAX Airport. I also saw the Slausen Ave. exit - made (in) famous by Johnny Carson referring to it as the Slausen cut-off. We made better time returning to Anaheim in the car pool lane. I was happy he was driving. Nice fellow, we had plenty of time talk to each other coming and going.
Friday morning John said, let's try the hotel breakfast. I had oatmeal and he had eggs and sausage. John had eaten lunch there the day before (he had a hamburger) and said the food was good. We ended up with the same waiter our entire stay and he was very good to us.
We walked down to the convention center to get our badges and checked in without any trouble. We went into the hall to find our table. It had been moved. We checked to make sure it was not mislabeled. The con staff they said that the agent wanted his four stars behind us facing each other, not back to back, so we were the ones who ended up being moved.
David had been in touch with us at the hotel via email before the con. I had emailed him when we arrived on Wednesday and again on Friday that I had successfully picked up his badge. He emailed back he would arrive at 2:00 PM, which was an hour before the con opened. It was a little early, but I was not about to complain. He had told me when to turn on my cell phone, in case he hit traffic coming down the freeway. It was about 50 miles. David drove himself. He told me after he arrived that he did hit some bottlenecks because it's always hard to get out of 'downtown.' I know going to UCLA (southwest of him) on Thursday was a tough go. It took us ninety minutes to travel the 59 miles in the morning.
We were setting up David's table and getting to know our table neighbor, Daz Crawford, when the phone chirped. It goes to voicemail most of the time, because I don't use it enough, but I now know if it's on, it will let me know I missed a call. So I dialed him back. He wasn't answering, so I hung up and then the phone decided to ring. So I answered yes, David. He told me he was coming up from the parking garage, so I walked up to the front of the hall to wait for him. I was worried I'd miss him. I finally spotted him riding up the escalator.
I quickly walked over to the rope, because I knew the guard would not let him in without his credentials. I got there as the guard stopped him. David was rolling a large blue and yellow suitcase with his pictures. We had told him to bring everything he had on hand for the table. It was obvious he was a "hand carry." I put David's badge around his neck and told the guard he was "my actor." I had brought a light elastic lanyard cord for him as I figured David would prefer that to something heavy. The guard finally let him in. I took the roller and full shopping bag riding on top from him to take to the table. We began walking back. David prefers not to carry anything but his black leather knapsack.
I then told David they had moved his table. It was only one row over, so I don't think we lost any business, but David was annoyed. He likes to be found. John showed David that his tall table sign had his name on the back of it, so it the fans went up the aisle he was supposed to be on they would easily see his sign and move the one aisle over.
As soon as he dropped his stuff off, David wanted me to show him where the convention center hotels were. I walked him to the front of the hall, pointed him the direction he wanted to go and let him go do whatever. He told me he would tell me later, if it worked out. I thought he had an interview.
When he finally came back, all hot and sweaty, he handed me his sweater to "do something with.' I draped it very carefully over the extended handle of his suitcase to 'dry out.' The hall did cool off once they closed the huge back metal doors, but until then, it wasn't very pleasant in there. After about four hours David wanted his sweater back on, so I retrieved it off the handle and held the neck and sleeves open so he could get back into it. He didn't seem to mind me helping him; he almost seemed to expect it. So I smoothed it down in the back and made sure it was on straight. It's very gratifying when he lets me look after him. John had made me this huge plastic hanging badge that said; David Hedison's Personal Assistant, so I might as well do it and David kept handing me stuff 'to take care of.'
David liked the stickers John made that said, 'Have you met Captain Crane yet?' We were sticking them on anyone who would wear them, to make sure folks in the hall knew David was there. David was listed with a booth number on the large grey sheet of booth numbers that they handed out at registration, but they switched everyone around so much, including us, those booth numbers quickly became useless for finding anyone. I would find David whoever he wanted to see. I would also help the celebs I liked find who they wanted to see, too. I had walked the hall. I could pretty much tell David; two rows over (900) and down by the Star Trek people and he knew where to go. Or we could tell them to take a left at the Back to the Future Car… which was playing music, which helped locate that.
David told me he had decided to book a hotel room for Saturday night to celebrate Bridget's birthday. He couldn't get anything at the Hilton, his first stop, but they had a room for him at the Marriott. At least the guy said he knew who he was. David told me the rate he was given. I assured him that was the con rate; he wasn't being ripped off. David persuaded Bridget to come down on Saturday at 5:00 PM and spend the night with him, after she finished up her landscaping business supervision for the day. The drive down had cemented the idea that he did not to be doing that twice a day.
Mary came looking for David while he was gone; we told her he was over at the hotel and to keep circulating until she saw him at the table. I think he came back right before her third pass. She told David she had come down from San Francisco for the day on the train to see him. David was amazed she would do that.
Shortly after that, Steven Bauer came over to say hi. I said I know you; you were in a Scheider movie. Plato's Run, right? Bauer was pleased I knew him and signed my Scheider book. He also was in King of Texas, which I told him I had seen. Bauer wanted David to know that he had watched him as child in Cuba and that Lee Crane had been one of his childhood heroes. Nice guy. We enjoyed his visit.
I had brought David twenty four items to sign for other people who could not come, so we started right in on those. David wrote what they wanted as long as it was in good taste. There were two requests from Australia. He was very happy that he had that many presales. We sold steadily all Friday until about 7:30 PM, at which time David drove home for the night.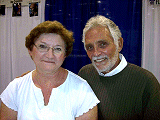 Dori and Bill Martin came by about 2:00 PM and had a very nice visit. I had to print up new photos for Dori as she had already purchased all the ones we usually sell. One of the new photos was one of David and Lee Meriwether. David signed one for Lee and told me to go give it to her. Dori came with me as she wanted hers double signed as well.

Lee was thrilled with her picture. She hugged it and said, 'Is David here?? He is such a nice man.' David wanted her to sell the picture and make some money. She did not want to. She wanted the photo for herself. So I took it back to David to be personalized - he signed it 'to sweet Lee.' Then we split the pack of photos I had made up - she got half signed by David to sell at her table and we got the other half signed by Lee to sell at ours. Lee also had photos signed by Leonard Nimoy from their Mission Impossible episode and one from Ray McDonnell - from the soap they were on. After all that back and forth and lots of 'girl talk' about David, nothing would do but for me to take her back to our table to see David. She went back behind the table and David greeted her with a great big hug and kiss. The kind of hug I have only seen him give members of his family.
She also took time to chat with John. She was the first to comment on how good David looked. Lee was able to better articulate David's appeal. I told her I didn't know what it was about him that had women flocking in droves, but I had observed it often enough. She said he was a man who was a man in the best way. He cared about you and took care of you and you knew he was a man who was going to take care of you. To her, that was the best kind of man there was. It was obvious they really liked each other. Lee said she would work with David again in a heartbeat. She came over at least twice more, during the show. Turns out, John is a fan and really enjoyed her visits.

Sunday I helped her find Ed Asner's table after she let me take her picture for the Irwin Allen News Network. She and I talked about Barnaby Jones – which I never missed. I admired her Catwoman photo – John bought one. While I was too young for Time Tunnel prime time, she knew I knew she was in it. We laughed about her part – which was mostly sitting there in her lab coat – bewailing the fact they had lost Doug and Tony yet again – but hey, it was mid 1960's. She had a great picture of herself on the Batman movie – with her two little daughters in tow. Lesley was there, helping her at the show, along with her stuntman husband. He was giving Lee a shoulder massage. I kidded her about him. Nice family. Lee was dressed so sharp all three days. A real class act. She was giving the money she made from signing her pictures to charity.
Malachi Throne had the table next to Lee. He was supposed to be across from us, but they had moved him down into the Batman group. He definitely remembered us from San Francisco. He came back to visit David later in the day. He and David talked about Malachi's most recent play – Malachi is on the board of the Playhouse and was a last minute fill in. David didn't like Act One at all – Malachi said that was because the playwright gave his actors nothing to work with. David said the play took off when Malachi came on in Act Two. Malachi mentioned that he wanted to expand the offerings at the theatre beyond the Jewish community. David suggested his group do I Never Sang for My Father.
David did this play at the Actor's Studio West. He played the father. It was really a departure role for David. Tom was absolutely horrible to everyone in the play and it did not end well. I can see where David would want to do this role, for the challenge of it, as Tom is the antithesis of everything David is.
David mentioned that Alexandra was stuck in London because of the Icelandic volcano eruption had canceled her flight. She had wanted to come home for her mother's birthday, but never made it.
Loretta Swit came by to say hi - with her dog. She fed everyone in our corner from her Trader Jack's stash on Saturday. Daz Crawford got Trail mix that he shared with David and me. David liked everything in t, but the M & M's. He set them aside and then he ate them. Go figure. David was bored and restless most of the afternoon; we weren't selling like we should have been (for a Saturday). She also gave us a bag of Kettle Korn popcorn that David shared with me, and some cranberries. Good food, but sticky, so I was handing out wet naps. David hates anything sticky, so I always pack them.
I made tea for David both days. I did not tell him that I had to pay $5.00 for milk and hot water in the hall, or he wouldn't have let me get it for him. I probably should have taken the tea bag since I paid for it! I had a pack of two oatmeal raisin cookies in the stash that I had brought for David. I gave him the bag to see what he wanted. His eyes lit up when he turned the bag over and saw the cookies. I told David he could have those. I know David likes to have a little something with his tea. I later found the empty wrapper.
David had a granola bar and the pack of almonds on Saturday. I didn't get the tea right on Friday, there was too much water in the cup I brought back to him and I forgotten to take the tea bag with me to steep really dark, but Saturday he set me straight before I left to buy the water. I took the Lipton bag with me and it steeped. David told me later it was the 'perfect' cup. Which made me very happy.
Daz didn't say no to granola bars, whenever they were offered. I found out David was given the wrong wristband on Friday – after Daz's agent exchanged his and explained the difference. So I walked back up and got David the one that would get him into the green room. Daz was a Brit and real live wire, so after we had our "cuppa" on Friday, I explained to him when would be a good time for him to hit up the green room for food. He was a quick study and always found something (to eat) when he went when I told him to.
Daz turned out to be quite useful. He was 6 foot 5 so he would help us get our banner up, and as a former UK Knight, he still works out. I wanted to take pictures on Friday and the camera batteries were dead. I had fresh ones, but I couldn't get the battery pack plastic open, no matter how I twisted it. I handed it to Daz. He told me he might have to destroy the package to get the batteries out and I gave him my blessing. He did get it open. I told him, some jobs are better done by men. I liked Daz. He was a fun neighbor and we enjoyed helping him out. It was his first con.
We both got lunch on Saturday, even if I had to eat mine out of a coffee cup with a knife. Daz, at least, got there in time to get a plate. Mrs. Throne loaded hers on one of the doilies left over from the bread, which was long gone. They had some really good (unsweetened) ice tea which I drank all three days. Made up for the hot tea I had to go buy. I would finish off the milk after the guys were done putting it in their tea, so that didn't go to waste, either. So David has tea and I have milk. Getting anything to eat at these things is always dicey and David feels he is looking after me by giving me 'his' milk.
I had brought David his Zinc, Echinacea and C cough drops. I had to buy them in Boston. None of my local Florida stores carry them, which I thought was odd. David went for them right away, until he found out the bag wasn't open yet. I tore them open for him while he was out hotel booking and he had quite a few of them. When I told him I had trouble finding them for him, he shrugged and said they sell them in CA. Thanks, David, I'll move to CA. Problem solved.
I gave one to Jennifer Rhodes on Sunday morning when she was a bit hoarse and she loved it and David's using them for "morning voice." She said he was right on both counts. Couldn't believe he was 82, either. She had been watching him interact on Saturday and almost fell over when I told her. She thought he was 60. I told David this and he laughed.
There were seven restrooms in the hall, and because the women were a minority they decided to change all the signs on the bathrooms so there would be more men's' rooms. They finally decided to leave the two ladies' rooms on the north wall as is, so I had to go clear across the hall to the north wall to go, while one of the south wall restrooms that supposed to be for women and was right across from us, became a men's room. At least John and David were happy. John would visit at the Land of the Giants table which was right next to the "converted" men's room, whenever he made the trip.
After one such trip, John took David down the row to Ben Burman's table to see Ben's recent Oscar for Star Trek (2009). John had already talked to Ben and thought he (as an Oscar winning make-up man) would like to talk to "The Fly." Ben was very glad to meet David and let him pick up and hold his Oscar, which David enjoyed doing. It's not that easy to get to hold one of those. After John had brought David over, Ben let John hold his Oscar, too. John figured since David had been voting to award those statues for so many years, he should get to hold one, since there was one there at the show. I saw it on Ben's table, but never asked to hold it. Very impressive.
Back at our table, David remembered holding an Oscar once before, back in the 1980's, when Leslie Bricusse won for Victor, Victoria. David said it was handed to him and he ended up carrying it around most of the night at the after parties. I know David used to attend the Oscar ceremony (years ago), but this was the first time he had ever told me a story.
I was showing David the new photos I had printed up, mostly glamour shots for the repeat women buyers. He liked most of them, but had a few choice comments about the one he didn't particularly like, so I know now what not to reprint. He really liked the shot of Spencer I had from Another World. David asked me, if he could have one. Like he has to ask… I gave it to him.
David started to inscribe it, my dearest Bridget... I turned away. If it was for her birthday, I didn't need to know what it said. If he had wanted me to see it, David would have showed it to me and he didn't.
He took the remaining Spencer photos - after I had sold several - home with him on Sunday. He still gets requests to sign 'Spencer' photos all these years later. David was on Another World 1991-1995 and I was writing him the whole time he was on it, so it's an experience we share. AW is currently being shown on Hulu.com, which is may be why he's getting Spencer requests again.
They brought us Bond posters and Licence to Kill and Voyage DVDs to sign. One fellow brought us a signed Del Monroe photo. Said his late friend was a neighbor of Del's before Del moved and that he used to see Del on occasion when he was over there. We were sorry for his double loss.
One of the Bond posters I had never seen before and the man had about 30 signatures on it. He was also worried he wouldn't be able to get over to England for a Bond FanFest event, with the volcanic ash canceling flights. I hope he made it there.
David enjoyed interacting with the fans. He did not wear his hearing aids at this con, because of the high level of "din" in the hall. He kept me close by and would "get it," if I repeated it for him. My lower timbre voice must be in his range. We had no trouble talking all weekend. David's very adept, reads lips really well, you never notice he is that hard of hearing.
I asked David about the Shakespeare play he had seen in London on his visit with Alexandra last month, as I was not familiar with it. As he was explaining the plot, I could see it was rather like Man of the People, another play David was interested in doing. I told David I had read Man and I could see why he wanted to do it – great part – but that I did not like what happened in the play – basically the Doctor who was trying to do "the right thing" was pilloried and driven out of town. I told David it reminded me of Jaws. This play was written in 1911, it's sad it still rings so true today. I hope David gets to do it.
David kept asking me about my research at UCLA, what Five Fingers episodes I had watched and how did I like them. I told him what a smartass he was in The Man Who Got Away, which was the better of the two episodes. He sings a Russian song in it. The Emerald Curtain was fun, Simone did her best to make Victor jealous by dating the Movie Director, but in the end, she was very glad Victor rescued her from the communists. David seemed interested at first in getting some of the episodes from UCLA to watch, until I told him he would physically have to go there to watch them. They don't lend them out.
I talked to David about his Hong Kong episode on the way out to meet Bridget at his hotel. I told him what a rotter he was in that one. It was one of his first villains. He smoked and roughed up Suzanne Pleshette and killed a man. Then the smugglers shot him dead. Suzanne conked Rod Taylor on the head with a vase and made off with the jewels, so the smugglers blew up her plane on the way to Australia. Crime does not pay. Simon Scott – the computer expert in the Voyage episode The Human Computer – plays the smuggler David's character (named Roger, of all things) is stealing from. He tortures and then later shoots David.
He seemed to remember this show better than Five Fingers. David returned my book chapter to me at the con and apologized that he could not remember more detail than what he had written down. I told him it was fifty years ago. I am very content with all he has done for me to date on the Five Fingers book.
There was a producer there, wearing a VIP badge and he kept coming back to talk to David. He was from Scotland and apparently was a huge fan. He told David he had worked on the TV show 24, which David had never seen. He wanted to cast David in his new TV show. He and David exchanged contact information. We'll see if 1) NBC picks up the show and 2) David gets a job. He kept coming back all three days; he really liked David and kept bringing other people to meet him. I wrote down for David who was cast in the TV show, so David would have it.
There was another guy with Ed Asner, who wanted to put David in "his movie." David's agent also showed up. Malcolm said he was out there for other clients, one who was doing a play and the other who was doing the TV Land awards taping Saturday night. Joyce Dewitt (who was behind us) was only at the con on Sunday because she was doing the TV Land taping as well. I turned away as David asked if he had any work lined up for him. David would tell me when the contract is signed. Two other guys came by and invited David to the (science fiction) Saturn Awards. Apparently the guy, who runs it, is a huge fan. It was a busy con.
David left us all his pictures and his roller bag, which I took home to my hotel both nights for safekeeping. I walked out with him Friday through the labyrinthine underground hallways to where his car was parked. He wasn't sure he could find it again, which was why he let me come with him, but he led me right to it. We overtook a group leaving, but only the young man recognized David and shook his hand. I wasn't sure David was going to get into the elevator to go up to the third floor with them, but he did.
Then he was worried I'd never find my way back to help John pack up. I assured him I was fine. David leaned down and gave me a solid good night kiss on the cheek. He was pleased with the day and all the sales we had made and the people who had showed up. It was the best day of the three.
Needless to say David parked at the Marriott hotel on Saturday. He tried to self-park and kept going round and round and it was still full, so finally he left his car with the valet. Which I thought was better - in the long run. David brought in some new pictures; including some Bond ones of Priscilla Barnes I had not seen before. Look for them up on the website and face book stores. <links>
After David left on Friday, I walked around and got a few autographs I wanted. Larry Manetti and Roger Moseley from Magnum PI, which was a show I watched the entire run. Larry persuaded me to buy the photo with Tom Selleck's autograph on it, that way I'd have three. I paid him and then he and Roger signed it. Roger was very game, I told him my favorite T. C. episode was the Christmas show when he was fixing the copter and singing Boardwalk, so he sang Boardwalk for me. Great guy.
Then I walked down and chatted with Richard Anderson (The 6 Million Dollar Man) - he was great. He told me stories about working with Stanley Kubrick in Paths of Glory. I told him I had seen that in film class - one of my minors is film. He said Gary Cooper had inspired him to become an actor. Richard finally met "Coop" at a Film festival and actually was able to have dinner with him. Great night. Great story. I really enjoyed Richard. He is as old as David and sharp like him, too. By that time, it was 9:00 PM and time to go home.
Saturday morning David came in with yet another shopping bag, with a green woolen scarf - that he never used - and presents for us, very nicely wrapped in green paper. I couldn't help teasing him; it was Bridget's birthday weekend (April 16), not mine.


He wanted us to have his Fly ashtray and another "gag" Fly toy he had been given. He said the ashtray was about 14 years old, a "gag" gift from a producer and I should have it as the writer of the "Fly" book. I was very pleased he wanted me to have it. I laid my head on his shoulder as he was sitting in that high chair and gave him a good hug.
I mailed both gifts home as the ash tray was big and brass and would never get past airport security. We put it up on the table for folks to play with on Saturday and they did. I was touched. David didn't have to do that. He apparently wanted to give us something for all our hard work, for making his table signs and coming across country to help him. He tried to give me double my percentage on Friday and I wouldn't take it. I took what I had earned. I only paid $65.00 for both our airfares – I had Delta Miles. Well, I had 65,000 Delta miles. Not anymore. David was much happier once he found out how little I paid in airfare to get us out there.
I had Ted Raimi sign my Scheider book on Saturday morning before he got too busy. He was extremely nice, soft spoken. I liked him right away. Then I took the book down to W. Morgan Sheppard – who played the hologram professor in SeaQuest and he also signed my book. Morgan has the loveliest voice, very resonant. I told him I remembered him as Blank Reg from Max Headroom, which was the first thing he ever did in the States. We talked about Roy - which was the only reason Morgan did SeaQuest. He asked to keep my book for a few hours so he could page through it. He seemed very fond of Roy.
They set up the Charmed actresses on our row, but they strictly controlled their line and had those waiting stage someplace else, so they never caused a traffic issue for us. I was pleased to see Jennifer Rhodes was set up across from them - she played their grandmother. I had always liked her so I bought a picture from her. After half a day, the Charmed ones left - with their phalanx of volunteers and our row returned to normal traffic flow.
Janine came in from New Orleans on Saturday and enjoyed seeing David again and picking out all the pictures she didn't have to take home with her. We had mostly male buyers, but the women who did show up really enjoyed David. Some only paid for the photo-op with David, but all went home happy. Kevin Sorbo also came to visit us. John had to explain to David who Kevin was. David had never seen either of Kevin's series, but apparently Sorbo was enough of a fan of Voyage to walk back and talk to David.
Vernon Wells also came by. We reminisced about Undeclared War and Vernon said they almost killed him on that movie, too. Helicopter took off before he was aboard. John teased Vernon about being the most famous hood ornament ever with a Mohawk in Road Warrior. Daz said it was called Mad Max II in the UK. David decided to go down and visit with Ed Asner. He asked me where he was. I gave him directions and off he went to find Ed at the front end of the 900 row. David came back from visiting Ed and said he wanted to see the movie Kick Ass. They had a car from this film at the show and David must have seen it. John pipes up and tells David, oh, no, you don't want to see that movie.
I went over to Cliff Simon and bought a picture. I told him how terrific I thought he was in Stargate SG-1 as the last and meanest Lord they had – Ba'al. I told him he totally owned that role and that I watched that final arc only for him. He was pleased. He did do a magnificent job. Cliff has great eyes and a real presence on the screen. He liked my comments so much; he gave me a second autographed postcard.
I brought the signed photo back and David wanted to see it. He is always interested in who I get autographs from. David sometimes acts like he's jealous, if I even look at another actor, so I play along. I told David that I only liked Cliff because he was tall, dark and had gorgeous eyes, like David did. In fact, Cliff reminded me of David when he was younger. David looked at the photo, put his thumb over Cliff's face and looked at his eyes and wanted to know if I really thought Cliff looked like him. I told David, don't worry, that I had loved him since I was 18 years old. David was my first; and I would always love him best. David smiled, handed me back the picture and I put it away. I told David I also liked Nathan Fillion, but nothing was going to happen there. David asked me if I liked George Clooney as well. I said yes, I thought George was a very attractive man.
Another time when I came back to the table; David was reading my Roy Scheider book. Again. It had been a while since he had read it and he said he was enjoying it, that it was a really interesting book. David likes biographies.
I couldn't decide if I liked new Sherlock Holmes movie or not. I liked what the actors did in it and as buddies, which was weird for me because normally I don't like Jude Law, but I did in this. David looked at me, bemused, but let me prattle on. I think what I didn't like about this film was it came across too modern for Sherlock Holmes. I hadn't seen Avatar yet, but now I have. That was okay, but I find the jump cutting very hard for me to follow in recent films. Everything is moving way too fast. I'm not that crazy about reboots, either, because of all the rewritten history.
I had made a point to go talk to Herbert Jefferson, Jr. (the original Boomer) in the first Battlestar Galactica series. He was there with Richard Hatch. We talked about an LA con we both had attended in 1986, where there was an earthquake and Michael Ironside was a no-show because he was filming Top Gun. Herb had his baby daughter with him then. She ran up and down the aisle – away from her mother during his panel to the delight of the fans. Herb remembered her doing that and it wouldn't do but for me to meet his now grown up daughter – who had recently graduated college, he was so proud – and tell her that story. I managed to bump into Herb again when I was showing Lee where Ed Asner's table was on Sunday and I met his daughter - who was very gracious (and beautiful). I told her she was the scene stealer way back when. Go see Herb at a con. He is a really nice guy.
We packed up David around 5:30 PM. We knew Bridget was waiting for him. I made sure he had his overnight duffle bag and everything else he needed to take with him when he left.
We showed up at 10 AM on Sunday to set up and the place was a ghost town, with maybe eight people in the hall. Jennifer Rhodes came back and we chatted until David showed up – promptly at 11. There still wasn't much of anyone in the hall yet. No one had made much money on Saturday – and consequently many stars were no-shows on Sunday. David came and after two hours, when it was apparent sales were not going to pick up, we sorted and packed up the pictures, letting David take home whatever ones he wanted to in his suitcase.
David was in good mood Sunday. He'd had a great date night with Bridget. He had planned to order room service, but then they decided to go come down and eat at the JW steakhouse, instead. It was a great dinner. David only told me what he had, a filet mignon steak dinner - beet salad - string potatoes and a really good red wine. He said he had given up vodka and lost six pounds. He looked thinner.
I had partially prepacked his suitcase, waiting for him to come that morning. I made sure his scarf, which I found abandoned at the bottom of a shopping bag, was back in his suitcase (to go home). I also made sure he got his plastic picture cases back and the special markers he likes to use. David left his book stand behind, because John had stowed it overnight under the table, but I will return it when (and if) we go out to sell Five Fingers books together, after the book is published.
I had told Dori to come at Noon on Sunday, as not to miss David. David left at 1 PM, Dori wandered in around 1:30 PM. I gave her his fruit punch bottle as consolation. He had seen one earlier and told me to "go get him one of those." Since he had graciously given me his badge to take home, I hopped on over to the green room and got him a fruit punch. I also said, screw it and used the (converted) men's room Sunday morning, before the hall opened. I was not going to walk clear across the hall (again). The guys kept remarking there were no urinals in there. Hello, converted ladies room!!
I walked David out on Sunday when he was ready to leave. David wanted to stop and chat once more with Ed Asner. He asked Ed about his one man play FDR. David wanted to see it. Ed said it may come to LA in the fall.
I waited for David to get his car brought around on Sunday and stuffed his suitcase into the back of it. David told me Bridget wanted him to be sure to thank me for the Italian travel book I had sent her when he asked for Fly books to sell at Monsterpalooza. In fact, she had yelled at him because he was supposed to tell me thank you on Friday.
I replied that I hoped she hadn't yelled at him too much and I was happy she had liked the book. David had previously told me that on his last trip to Italy, he did not want to go to Capri again because he had already been there. So I found this book in Boston (at my library convention) called 24 Back Road Adventures. I picked up the one for Italy.
I figured as well as Bridget knew Italy she would find some place in there for them to go. David said she curled up in the bed with it the night he gave to her. David then said; thanks a lot, now she's going to drag me off to Italy again. I grinned and told him, you're going anyway. Might as well go someplace (from my book) you haven't been.
He tried to get Bridget to come into the hall on Sunday and see us, but she wanted to be on her way home again. I told David it was okay. I know cons are not Bridget's thing. He says she likes me. I'll settle for that. It was great being with David again.
Dori and Bill Martin treated us to dinner at Morton's after the con closed on Sunday. It was very good. I had king crab/filet mignon, combo; two of my favorites. Monday we went to Disneyland. John fought me on renting an electric scooter for him, but five and a half hours later he admitted it made his visit so much better (and easier), plus he went right to the head of the line in the two places we went that had a line. We found out his cane qualified him for not having to stand in line.
I'm the one who limped home after chasing after his scooter all day. My bad knee took the con well enough, but doing the entire expanse of Disneyland on foot was too much for it. I put some liniment on it when we got home and it recovered much faster this time than after New York. We had an all day resort bus pass, so we went back to have dinner with Dori and Bill at the Marriott. We wanted to eat at the Steakhouse David had recommended, but it was closed. I had some really good chicken in the restaurant that was open.
John walked the Disney Marketplace with me after dinner. He had never been to Disneyland and I had, so it was fun showing him the various parks and stores. The evening Fireworks could be seen from the Marketplace so that capped the evening for us. We caught one of the last resort buses home to our hotel.
Tuesday, our Persian driver regaled us all the way to Santa Ana Airport at 4:00 AM about how he used to run home every Friday night (when he was 15) and his friends did, too to watch Voyage to the Bottom of the Sea. He loved his signed Voyage picture.
They wouldn't let us go through Security until 5:00 AM, but John said he was glad to be there early. I spent the time hunting him up a wheelchair. We had a too tight connection in Atlanta because our gate wouldn't clear, so we could land. They finally found us another gate and we landed. I put John in the first wheelchair that was delivered and pushed him down myself the 30 odd gates to where our plane was boarding We made our flight. Ah, the joys of Atlanta.
For a day when no one (supposedly) travels, our Tuesday flights were remarkably full. It was good (for John) that he did not have long flights or a lot of waiting around. He took the trip really well. I don't know if he will do another con after this, but I am glad he went to this one. We had a blast.
Diane Kachmar
5/11/10