Licence to Kill
was the only Bond film not to have any scenes filmed at Pinewood Studios.
This is the first Bond Film not to take it's title directly from a book, even though the film contains elements from the book
Live and Let Die
and the short story "The Hildebrand Rarity."
The film says James Bond will Return. Even though Timothy Dalton had an option for a third film, (supposedly based on "Property of a Lady"), Dalton declined to return and the role was given to Pierce Brosnan.
This was also the last film for Richard Maibaum (writer), Maurice Binder (titles), Robert Brown (M) and Caroline Bliss (Miss Moneypenny).
Look for Director John's Glen's trademark - A scene with pigeons.
Felix Leiter's Guide to the Florida Keys
1010 Windsor Lane, Key West, FL

007: Filming location of the church where Felix Leiter parachutes in to get married.
707 South Street, Key West, FL
In 1989, it was the home of interior Designer Stefano Marchetti. It remains a private residence.

007: The wedding reception was also filmed at this location on the pool patio.


Wavekrest Warehouse
The Conch Republic Seafood Company 631 Greene Street, Key West, FL

007: Formerly a large warehouse known as "Fish House No. 4," it was here that Felix "disagreed with something that ate him." The building is now a highly regarded seafood restaurant.



Cray Cay
Sugarloaf Airport
Mile Marker 17, Sugarloaf, FL

007: The Bahamian airstrip where Sanchez lands to reclaim Lupe is actually on Sugarloaf Key. Nearby is the house where Lupe's beau loses his heart and the field where Leiter (and Bond) try to capture Sanchez before he takes off in the plane.

Old Seven Mile Bridge
A section of the old Seven Mile Bridge was salvaged when the new Seven Mile Bridge was built. It is not open to automobile traffic, but is a popular walking and fishing destination.
007: DEA stops Felix's limo on the bridge to advise him Sanchez in in the Bahamas. This is also the bridge from which Sanchez will make his daring escape.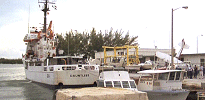 Coast Guard Pier and Station
USCG Station, Key West, FL

Felix hitches a ride in the USCG helicopter in pursuit of Sanchez.